Safe conferences - This is how we do it!
Read more about your meeting and Covid-19 here (in Swedish)
Did you know that a conference doesn't count as a public gathering and that you're allowed to arrange a meeting with 50 persons or more? We have special routines to ensure that we keep a distance from each other and that everyone feels safe.
Meeting & Conference at MJ'S
Yes, we have beautiful rooms with super comfy beds but this is not just a hotel. We serve great food made with love, but this is not just a restaurant. We most definitely prepare show-stopping cocktails, but this is not just a bar. MJ's is life.
An open door and a wide open mind, in the heart of Malmö. Consistent, yet ever-changing. A social melting pot where we can all be ourselves and where you as a guest is always included, simply because we want to get to know you.
It's all smiles at MJ's
BRING OUT YOUR INNER EINSTEIN WHILE HAVING A LAUGH.
A conference or meeting at MJ's is always something else. Stunning, inspirational and funny facilities with the latest technology awaits you. And when we say funny we mean like literally funny.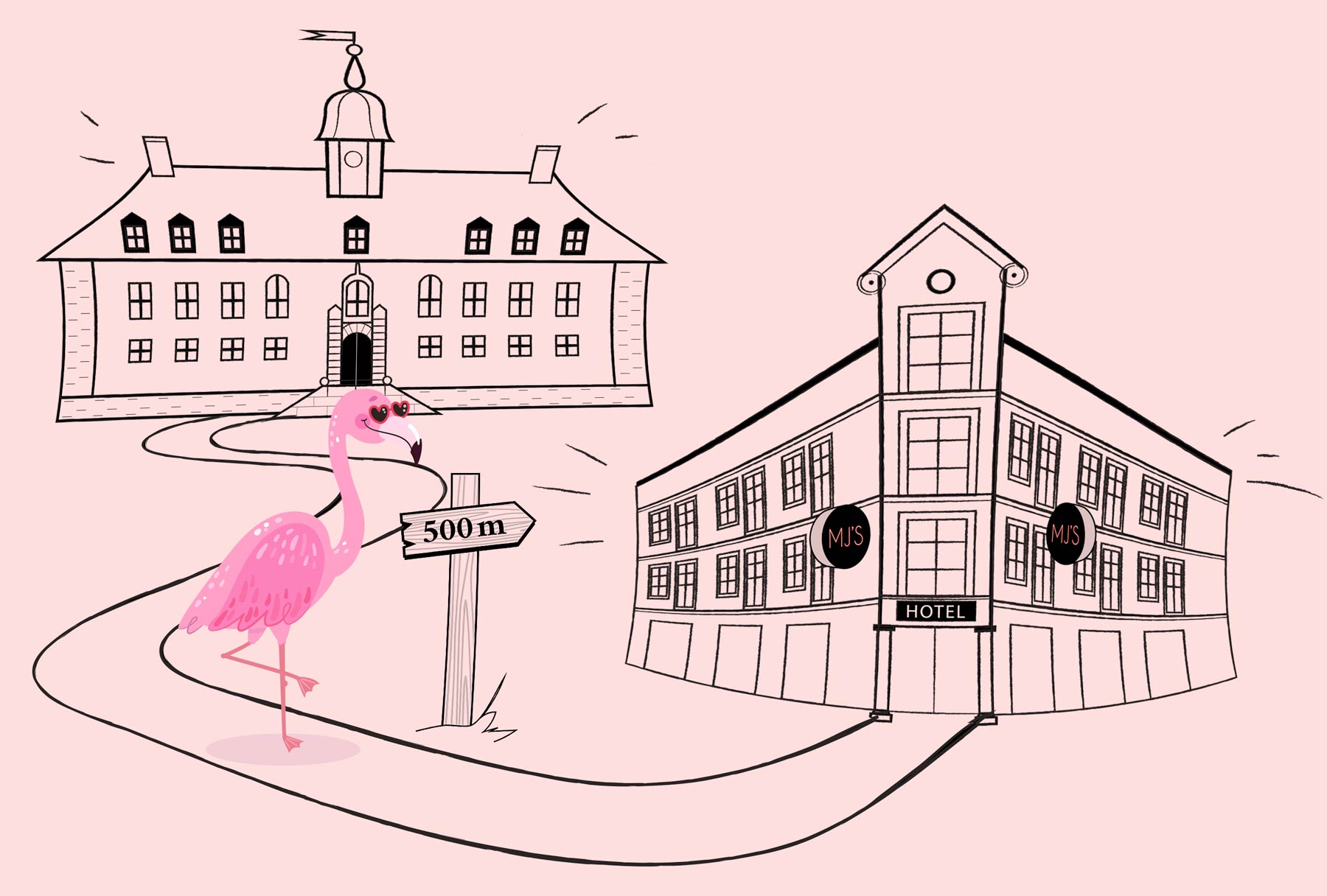 See you in court!
WINE, DINE AND SLEEP AT MJ'S AND HAVE YOUR MEETING RIGHT AROUND THE CORNER, AT OUR FRIENDS AT THE GORGEOUS HIGH COURT.
Only 500 meters from MJ's and seating up to 200 playful peeps, lies the historic Court of Appeal building, a beautiful and unique space that was renovated 2013 and turned into a conference space.
Our conference coordinator will take care of the works from start to finish and coordinate all of the details of your visit.
Get the best of both worlds and pair your meeting in a historic setting with a sleep-over in a whatchamacallit, pinkish, setting. Enjoy a delicious dinner, snuggly sleep and our Breakfast Bombastic at MJ's and get ready for some serious business at court.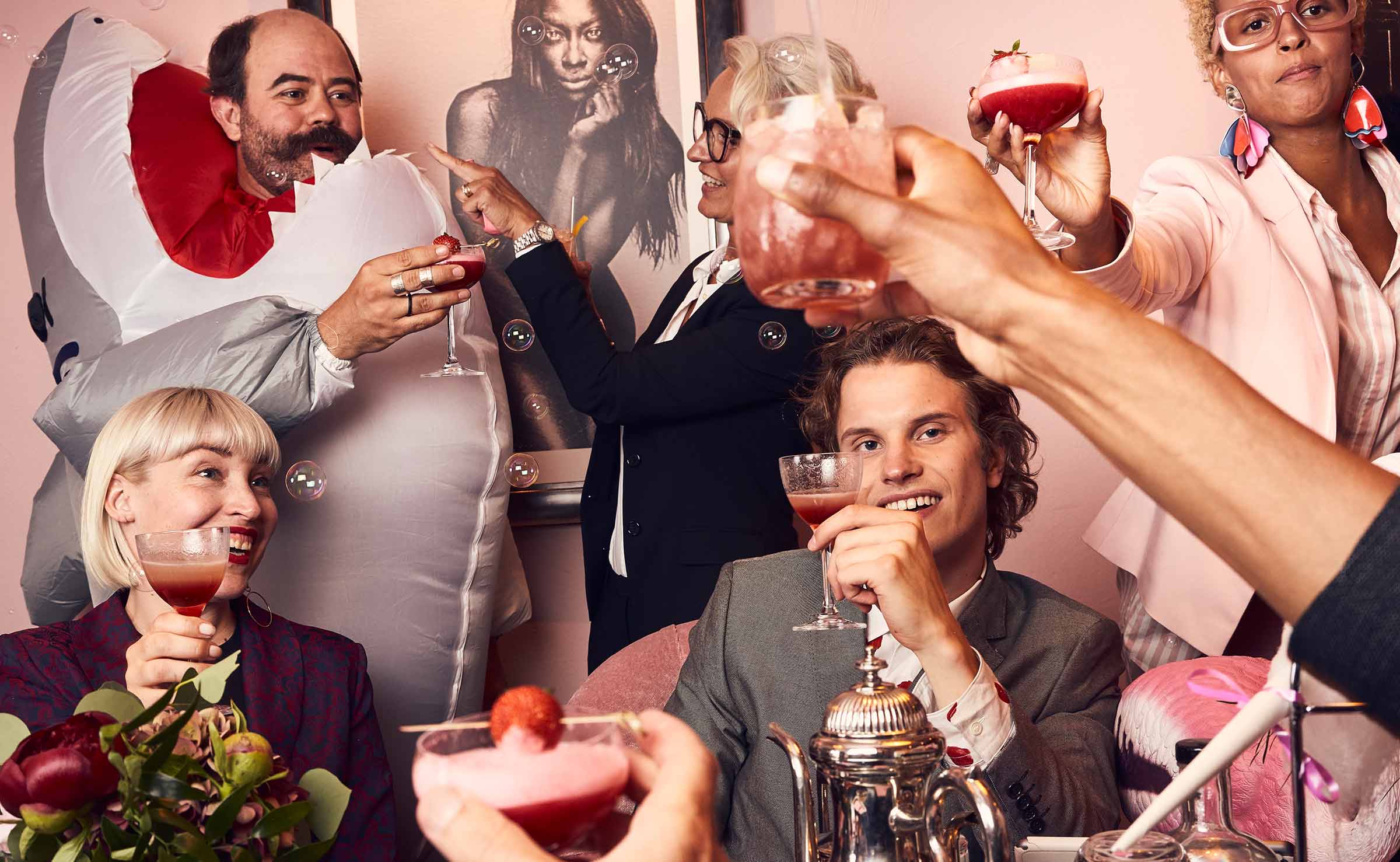 Next
Something
extra!
Celebrate your
latest success
and spice up
your meeting:
Book one of our private rooms and take your meeting to a whole new level:
Cocktail trolley
Mix your own Old Fashion or Dry Martini
Karaoke machine
Who is your company's undesignated pop star? Uncontrollable laughter guaranteed.
Your own DJ
Best way to end today's meetings? With a damn fine party of course!
Bubbles & Bubbles
No party without soap bubbles and champagne tasting!
Candy-floss
We all know that sugar is an excellent flavor enhancer. Pink of course!
Flamingo
'Cause everything is always better with a flamingo
Party
&mingle!
Bring your crowd
and mix business
with pleasure!
Book one of our private rooms and take your meeting to a whole new level:
Oysters & Champagne
A classic never goes out of time
Tequila Tasting
Tequila as you never had it before
Sharing Menu
An amazing five course dinner served in a sharing style, signed Head Chef Frida Nilsson.
There's always something worth celebrating and at MJ's we always look forward to make your evening into something really really special.
Get in touch more information and bookings:
meetings@mjs.life
Request your quote
LOOKING FORWARD TO HEARING FROM YOU!